Because we know that you love to have fun here on our website, we are trying to bring for you the most beautiful games that you can play. Today, you can see that we have brought a very special game from the Enchantimals games category, a game called Enchantimals Garden Decoration, in which we are sure that you are going to have a great time, because this is a game for girls in which you have to decorate a full garden. The Enchantimals girls are very happy to see that you are coming here in our website so many, so they want to have fun with you in their future games in their beautiful garden, so you have to make sure that you and the Enchantimals girls can create one of the most modern and colorful gardens from our website. You will have to pick flowers, pick decorations and beautiful garden furniture that you can use only in the Enchantimals garden, and that means that the little girls are going to be very happy and that they will return here on our website with more interesting and more fun games that you can play with all your friends. Have fun!
Use the MOUSE to play.
You can also read the instructions that Enchantimals Garden Decoration are given in the game and follow them carefully!
Name: Enchantimals Garden Decoration
Date: 14.11.2017 13:00
Category: Enchantimals Games
Score: 5.00 stars.
Voted: 1 times
Played: 183 times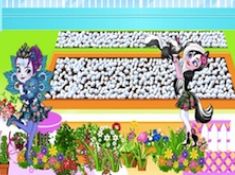 Enchantimals Garden Decoration
Find the Enchantimals Garden Decorationgame by searching for this items:
enchantimals games, girl enchantimals games, 2017 enchantimals games, free enchantimals games, decoration games