You can see that every day of the week fun games are appearing here on our website, and so today we are inviting you to play our latest Coco Tetris game that comes in the Coco games category. You dear friends have to be very careful and fast in this game, because all Tetris games are fun and fast here on our website. Coco has prepared this special game just for you, so it's very important that you gain points and become the best player of the game. We know that it's not going to be easy at all to place all the Tetris pieces in the right spots, but you have to make sure that you can move them around as closest as you want if not in the perfect spot. Make sure that you can destroy as many Coco Tetris pieces as you can, and so you will gain a lot of points, and we are going to continue bringing for you fun and interesting games from the Coco games category. Have fun!
Use the ARROW keys to play.
You can also read the instructions that Coco Tetris are given in the game and follow them carefully!
Name: Coco Tetris
Date: 14.11.2017 14:00
Category: Coco Games
Score: 5.00 stars.
Voted: 1 times
Played: 114 times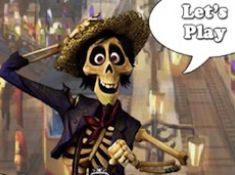 Coco Tetris
Find the Coco Tetrisgame by searching for this items:
coco games, fun coco games, 2017 coco tetris games, free coco tetris games, tetris games for kids