We are bringing for you today dear friends a new online game from Nickelodeon, in which dear you can meet with Lincoln from the Loud House, Bunsen is a Beast and Alvin and the Chipmunks which today are bringing for you a very special quiz game, in wihch you have to make sure that by the end of this game, you will be able to gain points by answering to different questions. All the characters from Nickelodeon are here on our website to see if you can reach the end of the quiz game, and see which is the sidekick that you will pick based on the answers that you give, and that means that all the characters, Alvin, Lincoln, Bunsen will be prepared to return here on games-kids.com, and continue to bring fun Nickelodeon games. Have fun!
Use the MOUSE to play.
You can also read the instructions that Nickelodeon Who is your Sidekick are given in the game and follow them carefully!
Name: Nickelodeon Who is your Sidekick
Date: 12.01.2018 21:30
Category: Boys Games
Score: 5.00 stars.
Voted: 2 times
Played: 191 times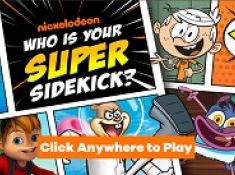 Nickelodeon Who is your Sidekick
Find the Nickelodeon Who is your Sidekickgame by searching for this items:
nickelodeon games, 2018 nickelodeon games, free bunsen is a beast games, boys the loud house games, fun alvin and the chipmunks games