The next game that we have to offer is a new and beautiful caring game in which you have as main character Sofia the First. Sofia has decided to spend all the day at the spa and relax while you make her look beautiful. Being a princess is not always easy because a princess has great responsabilities and Sofia feels tired and tesnse so she wants a day off to relax at the spa. Inthis new game thar we have decided to offer to you, you need to take care of her and make her relax while you apply massage oil, face masks and so on. This gam has a number of five stages starting with the massage stage. When you are done with themassage, you will go nex to the bath stage, the facial treatment stage , make up stage and ending up with the dress up stage. You will get instructions in the first three stages as you have to use your taste in fashion and make up in the last two. Have fun with princess Sofia in this new game that we have to offer especially for you, our dearest friends.
Use the mouse to play!
You can also read the instructions that Sofia the First Spa are given in the game and follow them carefully!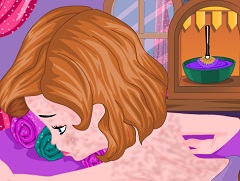 Sofia the First Spa
Find the Sofia the First Spa game by searching for this items:
sofia the first, sofia the first games, games with sofia the first, free games sofia the first, 2015 games with sofia the firs, princess sofia games, spa games, sofia spa, sofia the first spa, sa with sofia the first, new sofia the fisrt spa, sofia spa 2015, spa games, 2015 games with sofia, sofia games, 2015 games, sofia the first game, caring game, free game, sofia game, spa game, dress up, free games, caring, make up, sofia