A new game of attention and patience is from today on games-kids.com, a game that is from tha Shaun the Sheep games category, a game in which dear friends, to be able to see which of Shaun's picture is the wright one, you will have to be very careful and concentrated, because dear friends it is a new interesting game with Diferences, a game in which Shaun prepared for you two animal pictures, in which you will have to find all the differences, and so you will find out which one is Shaun's original picture, and so you will se how easy it is to help Shaun in different other games, if you are careful and concentrated. Gain a lot of points by helping Shaun find all the differences in the shortest time, and we are sure that he will return on games-kids.com with new interesting and exciting games for you to play. Have fun!
Use the MOUSE to play.
You can also read the instructions that Shaun the Sheep Differences are given in the game and follow them carefully!
Date: 25.12.2015 21:30
Category: Shaun the Sheep Games
Score: 5.00 stars.
Voted: 1 times
Played: 2418 times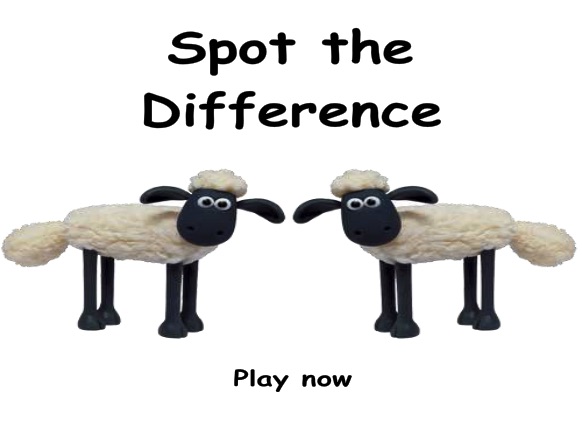 Shaun the Sheep Differences
Find the Shaun the Sheep Differences game by searching for this items:
online shaun the sheep games, free shaun the sheep games, 2016 differences games, online difference games 2016 shaun the sheep games, animal games, online animal games, free animal games, shaun the sheep difference games, shaun the sheep differences games , 2016 shaun the sheep games, differences games, games 2016, differences game, 6 differences games, difference games, mal games, animal game, shaun the sheep games, differences, 2016 differences, sheep games, find all the differences