Everybody knows that Bessie is a Bee girlscout, something that is very important for her because she wants to gather all the badges that she can get because she would love to become the legendary Mighty B, but that is a dream right now.Well, give the fact that she is a Bee girlscout , she doesn't get along with the Fireflies which are mean girls and they always bother Bessie, such as in this particular game right here on our site when a whole soda war becomes.Of course that youkids have to help Bessie be the best in this soda throwdown but that won't be very easy to do, an advice we can give you is that you should realy focus on the instructions you are given in the beginning of the game because they will truly help you and of course try to be thebest by beating all the other girls in the throwdown. Good luck!
Use the ARROW KEYS and SPACE to throw
You can also read the instructions that Mighty B Pier 13 Throwdown are given in the game and follow them carefully!
Date: 15.02.2016 20:00
Category: Mighty B Games
Score: 5.00 stars.
Voted: 1 times
Played: 1588 times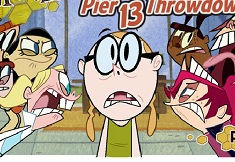 Mighty B Pier 13 Throwdown
Find the Mighty B Pier 13 Throwdown game by searching for this items:
mighty b games, games with mighty b, mighty b fun games, online games with mighty b, mighty b 2016 games, games with mighty b adventures, girls games, fighting games, mighty b fighting games, mighty b pier 13 throwdown, pier 13 throwdown, mighty b funny games, 2016 game, 2016 games, fun games, funny games, girls game, online games, adventures, adventure, fighting game, fighting, fun game