We are proud and happy to announce that we have to offer a new and fun game where the main characters are your friends from Trolls. The movie Trolls was very well received by kids all around the world and they got a huge success . Now we have decided that it is time to start offering you new and fun online games with the characters from the movie and see you enjoy your time more and more. This new and fun game is a math quiz type of game, a new game in which your friends have a way to show you how fun math can be sometimes. In the game you will get a number of problems with the answer and all you need to do is to click the right of wrong button, depending on the answer. Yu can also choose the levels of difficulty in the beginning of the game. YOu ca choose from easy to medium or hard. By the end of the game you will get a mark from your right answers. We know that you will have a lot of fun while playing this new and fun game with Trolls, so join us and enjoy your time with games-kids.com!!
Use the mouse to play!
You can also read the instructions that Trolls Math Quiz are given in the game and follow them carefully!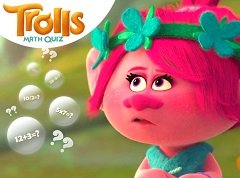 Trolls Math Quiz
Find the Trolls Math Quiz game by searching for this items:
trolls games, new games with trolls, trolls games 2016, trolls games 2017, fun games trolls, math quiz games, new games math quiz, math quiz online, trolls math quiz 2017, math quiz trolls, trolls fun games, kids games trolls, trolls math, math games, fun math, math with trolls, math games 2016, quiz games, games, new games, kids games, games 2017, kids games 2017, fun games, math, quiz, troll, games 2016, online games, fun game, fun online games, games with trolls, kids game, math quiz game, math game, math quiz, around the world, quiz game, trolls