We are back with a new exclusive game for you our dearest friends. Today games-kids.com has decided to offer you another new and fun game with the Trolls, a game which you will play for the first time on games-kids.com and enjoy it. Here in this new and fun game, all your friends from the Trolls animation, want you to join them and to play a candy shooter type of game. The rules of the game are very similar to the classic bubble shooter type of game, a game where you will have to use the candy to have and shoot it where there are more of the same type. We are sure that you will enjoy your time playing this new game. You will have to fill in the game bar and then move to the next level.You also receive points for every set of candies you eliminate. Also you need to know that if you shoot candies where they are not any like them, than after the third shoot, your candies will add another row for you. Come and play this new candy shooter type of game and enjoy your time with the characters from the Trolls movie, here on games-kids.com!!!
Use the mouse to play!
You can also read the instructions that Trolls Candy Shooter are given in the game and follow them carefully!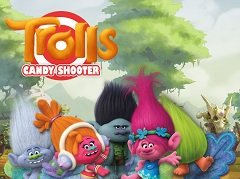 Trolls Candy Shooter
Find the Trolls Candy Shooter game by searching for this items:
candy shooter, candy shooter games, new candy shooter online, games, trolls candy shooter 2017, bubbles shooter trolls, trolls bubble shooter, bubbles shooter 2017 games, new games bubble shooter, trolls games, new games with trolls, trolls games 2016, trolls games 2017, fun games trolls, kids games, new games, trolls kids games, fun games, games, 2017 games, boy games, girl games, bubble games, 2017 game, bubble shooter, fun game, games 2016, games 2017, games with trolls, girl game, kids game, shooter games, bubble game, bubbles, candy shooter game, bubble, candy, trolls