Slowly our website is increasing it's number of new and exclusive games and we are very proud of this. Today our team has to offer another new and exclusive game with your friend , Ana the Pirate. We know that you will have a lot of fun while playing this new and fun online game that we have to offer especially for you and we really hope that you will enjoy it just as much as we do. The new game is a candy shooter type of game, where Ana wants to see you popping some candy and gathering a high amount of points. The game can be played in two modes, Classic and Arcade and you will have levels in bother types. If you like this game, you can play both modes and see which one is better and tell us in a comment. Try to get past every level of this new game and shoot the candy which you have attached to your shooter where you see more of it's type. The game follows the same rules as the classic bubble shooter game and we are sure that it will be even fun with your friend Ana the Pirate by your side. Play this new and fun online game and enjoy your time here on games-kids.com!
Use the mouse to play!
You can also read the instructions that Ana the Pirate Candy Shooter are given in the game and follow them carefully!
Date: 20.12.2016 19:15
Category: Ana the Pirate Games
Score: 4.00 stars.
Voted: 3 times
Played: 2832 times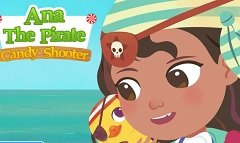 Ana the Pirate Candy Shooter
Find the Ana the Pirate Candy Shooter game by searching for this items:
ana the pirate, ana the pirate games, games with ana the pirate, ana the pirate fun games, kids games ana the pirate, new games ana the pirate, ana the pirate 2017 games, online games ana the pirate, ana the pirate amazing games, bubble shooter, bubble shooter games, ana the pirate bubble shooter, candy shooter ana the pirate, ana candy shooter, candy shooter ana the pirate 2017, ana the pirate candy shooter fun game, games ana the pirate online, candy shooter with ana, candy shooter games, candy shooter 2017 games, new games candy shooter, kids games candy shooter, candy shooter ana, games 2017, new games, games, kids games, shooter games, 2017 game, 2017 games, bubble shooter game, candy shooter, fun game, fun games, games with ana, kids game, online games, pirate games, candy shooter game, arcade, bubble, candy