Well , it is time for our weekly exclusive online game, another game that we have in store for you guys! This new and fun online game is with the characters from the animation Ana the Pirate and we are more than happy to finally offer it to you. The game is a math quiz type of game in which your little pirate friend, Ana, wants you to join her and learn a fun way to practice your math with her. She will have a number of math problems and solving and she will wait for you to take a look at all of them and choose between the right or wrong button, depending on the answer offered to the problem. We know that you like to play this type of challenging games and we are even curious to see what will be your result after playing this new and fun game. We are sure that you will love this game and that is why we invite you to also take a look at all the other math quiz type of games that we have with different characters from your favorite series. Enjoy your time here on games-kids.com and do not forget that at every hour of the day and night we will delight you with a new and fun game!!!
Use the mouse to play!
You can also read the instructions that Ana the Pirate Math Quiz are given in the game and follow them carefully!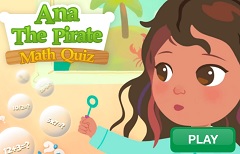 Ana the Pirate Math Quiz
Find the Ana the Pirate Math Quiz game by searching for this items:
ana the pirate math, math with ana the pirate, math games, fun math games, math games 2017, math quiz games, new math quiz games online, fun math games, kids math games, online math games for kids, ana pirate math quiz online, ana the pirate 2017 games, games with ana the pirate, fun games ana the pirate, ana the pirate, ana the pirate girl games, new games ana the pirate, games, new games, fun games, kids games, games 2017, 2017 game, 2017 games, fun game, games for kids, games online, games with ana, girl game, girl games, kids game, math game, math quiz game, math quiz games online, math quiz online, quiz game, quiz games, quiz games online, fun math, new math quiz games, math quiz