We are back and ready to offer you a new and fun online type of game. This new game that we have for you is a jewel match type of game, a game in which we are sure that you will have alot of fun time. This new game is an exclusive online game in which the main characters are your friends from the animation Shopkins Shoppies and they are waiting for you to join them and spend some fun time while matching all the jewels that you can before the time runs out. Here in this new and fun online type of game you will have to use your mind skills and spot all the jewels that can be matched. You can match them in a set of three or more and in exchange you will receive some points. In this game you will have a target score and a limited time at your disposal to gather it or more in order to move further in the levels of the game. Your friends will watch over every more you make and encourage you to move further in levels until you reach to the end of the game with the highest score. Enjoy this new and fun jewel match type of game, here on games-kids.com!!!
Use the mouse to play!
You can also read the instructions that Shopkins Shoppies Jewel Match are given in the game and follow them carefully!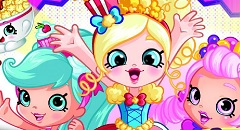 Shopkins Shoppies Jewel Match
Find the Shopkins Shoppies Jewel Match game by searching for this items:
shopkins shoppies,shopkins shoppies games, games with shopkins shoppies, shopkins shoppies 2017 games, fun games shopkins shoppies, kids games shopkins shoppies, online games shopkins shoppies, shopkins shoppies new games, shopkins shoppies doll games, shopkins shoppies dolls,jewel match , jewel match games, new bejeweled games, bejeweled shopkins shoppies, match the jewels shopkins shoppies, jewel games, new bejeweled 2017 games, kids games, bejeweled online, shopkins bejeweled, shopkins jewel match, jewel games 2017, fun jewel games, games, new, new games, kids games