We are ready to impress you with new and amazing online games offered by the administrative team of games-kids.com. Today is one of those days in which you will have a lot of fun while spending the time with your friends from the animation series Shopkins Shoppies. We know that you love your friends from the series and we are trying to offer you as many new exclusive games with them as possible and watch you enjoy your time. This new and fun online game is one fun jelly match type of game in which you are invited to join your friends and search to match three or more jelly of the same type and color and get points in exchange. You will have to get all the points needed to be able to move further in levels and even more if you can to get the highest score possible. As you move in levels , you will see that the difficulty of the game will increase, making it more challenging. Your friends want you to pass through every level of this fun and new online games and enjoy your time. Have fun with the characters from Shopkins Shoppies in this new and exclusive jewel match type of game that games-kids.com has to offer especially for you!
Use the mouse to play!
You can also read the instructions that Shopkins Shoppies Jelly Match are given in the game and follow them carefully!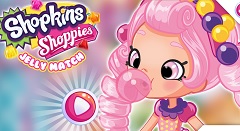 Shopkins Shoppies Jelly Match
Find the Shopkins Shoppies Jelly Match game by searching for this items:
shopkins shoppies, shopkins shoppies jewel match, shopkins shoppies 2017 games, shopkins shoppies fun games, kids games shopkins shoppies, shopkins shoppies grl games, jewel match games, new jewel match online games, fun games jewel match, jewel match new games, kids games jewel match, bejeweles games, shopkins shoppies jelly match, jelly match games, new games jelly match, shopkins shoppies jelly match, shopkins shoppies new games, jelly match online games, fun jelly match kids games