We are back and we want you to join us and to enjoy spending your time with some of the most beloved characters. Here in this new and fun online category of games, you are invited to join your friends from the animation Beyblade Burst. This new and fun online game is an exclusive game offered by games-kids.com, a math quiz type of game in which we are sure that you will have alot of fun. Here in this new and fun math quiz type of game you can start by choosing the level of difficulty that you would like to have and then answer the problems by clicking on the true or false buttons. You will get the problems and the answers and then you will have to analyze them and click on the right button. After you answer all the problems, you will get a mark depending on the number of right answers you gave. Join your friends from Beyblade Burst in this new and fun online game and enjoy spending the time together. Have fun!!!
Use the mouse to play!
You can also read the instructions that Beyblade Burst Math Quiz are given in the game and follow them carefully!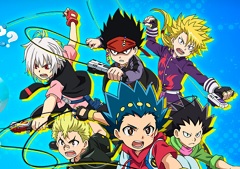 Beyblade Burst Math Quiz
Find the Beyblade Burst Math Quiz game by searching for this items:
beyblade games, new games beyblade, beyblade burst games, fun games beyblade burst, beyblade burst 2017 games, kids games beyblade burst, beyblade burst math quiz, math quiz beyblade burst, beyblade burst boy games, new games beyblade burst, beyblade burst math quiz online, beyblade burst kids, beyblade burst fun, games beyblade burst, beyblade burst new, new games, games, kids games,math quiz games, math quiz 2017 games, kids games math, math games, new games math, fun math games