It is time for us to offer you our newest online game, a new game in which this time your friends from Beyblade Burst are waiting for you to beat your own record at Candy Shooter. Here in this new and fun online type of game, your friends will watch over every move you make while trying to get the highest score and move further in the levels of the game. The rules of the game are the same as those of the classical Bubble Shooter type of game in which you will have to take a close look at the candies that are up and the candy you have in the shooter and shoot it where there are more of it's type in order to eliminate those and get points in exchange. You will see the game bar loading as you will shoot as many candies as possible and when the level bar is full, you will move further in the game. We are sure that you will enjoy this new game that we have to offer to you and we invite you to have great fun with your friends from the animations series Beyblade Burst, here on games-kids.com, the website where all the fun starts with you by our side. Enjoy!
Use the mouse to play!
You can also read the instructions that Beyblade Burst Candy Shooter are given in the game and follow them carefully!
Date: 16.05.2017 09:30
Category: Beyblade Games
Score: 4.09 stars.
Voted: 11 times
Played: 13641 times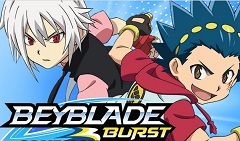 Beyblade Burst Candy Shooter
Find the Beyblade Burst Candy Shooter game by searching for this items:
beyblade, beyblade games, new games beyblade , candy shooter games, fun games candy shooter, candy shooter beyblade, beyblade bubble shooter, beyblade fun games, beyblade 2017 games, beyblade burst 2017 games, boys games beyblade, bubble shooter games, fun games bubble shooter, bubble shooter 2017 games, candy shooter online games, kids games candy shooter, new games candy shooter, candy shooter fun games, shooter games, kids games, new games, games