Rapunzel is a very intelligent princess and even though she doesn't need to work, she loves doing all kind of interesting things and that is why she decided in this game to open herself an open gallery because she loves art and she wants to share that with everybody. But because she is at the beginning of this whole experience she needs your help and the help of two of her very good friends, Jasmine and Aurora, to decorate the place and get her started, decorate it and put up the art and then you can help the Disney princesses Aurora, Jasmine and Rapunzel to get ready for the Big Opening, they want to look elegant and beautiful and we are sure you will find the right clothes for that, the right accessories and of course the right hairstyles. Good luck!
Use the MOUSE to play.
You can also read the instructions that Princesses Open Art Gallery are given in the game and follow them carefully!
Date: 12.08.2017 01:00
Category: Princess Games
Score: 5.00 stars.
Voted: 2 times
Played: 384 times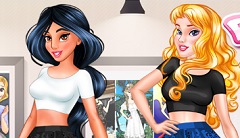 Princesses Open Art Gallery
Find the Princesses Open Art Gallery game by searching for this items:
princess games , new princess games, fun princess games, online princess games, disney princess games, aurora games, jasmine games, rapunzel dress up, girl games, princesses open art gallery, dress up games