As you know, Barbie is one of the most fashion girl on our website, and today she is returning with a very interesting makeover game from the special Barbie games category. You dear friends can see that she wants to have a lot of fun, so that you can make new friends. Today, Barbie has started a fashion blog, and her first post will be the Barbie Lip Art Blog Post. Barbie has a lot of beautiful and trending lip designs, and you will have to use special lip gloss, special lipstick and a lot of creativity so that Barbie's lips will be the most beautiful, and her lip art blog post will be the most viewed post on internet, and we are sure that Barbie is going to bring for you more beautiful girl makeover games that you can play with all your friends. Have fun!
Use the MOUSE to play.
You can also read the instructions that Barbie Lip Art Blog Post are given in the game and follow them carefully!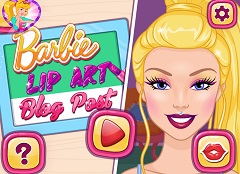 Barbie Lip Art Blog Post
Find the Barbie Lip Art Blog Post game by searching for this items:
barbie girl games, new girly games, barbie lip art blog post, fun barbie makeover games, barbie makeup games, girly makeover games