We are bringnig for you today dear friends a very beautiful game from the Princess games category, in which you have to be very careful because this is a game in which you can meet with three Disney characters. In this game, Elsa and Barbie are going to be with a friend, and they want to take a break and have fun in a sauna realife. It's not going to be easy for them, because dear friends they have to get ready with different spa treatments and oils, and that means that you have to make sure that you can select the right products for each character. Super Barbie and Elsa are going to have a great time here in this game, and we are sure that you will do the same while playing this awesome and beautiful Super Girls Saun Realife game that you can see and play free only here on games-kids.com. Have fun!
Use the MOUSE to play.
You can also read the instructions that Super Girls Sauna Realife are given in the game and follow them carefully!
Name: Super Girls Sauna Realife
Date: 06.12.2017 23:00
Category: Princess Games
Score: 5.00 stars.
Voted: 1 times
Played: 311 times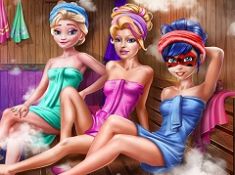 Super Girls Sauna Realife
Find the Super Girls Sauna Realifegame by searching for this items:
disney games, online games, girl sauna realife games, 2017 princess games, elsa and barbie games