Today dear friends you can see that we are bringing for you the Flirty Fiona game, in which you are able to meet with cute blonde Fiona. This is a game that you can find in the girl games category, and you will have to be very careful, because Fiona is going to want to flirt with the boys from this game, and she doesn't want the old ladies to see. Fiona has a very special power, with which you can see that she can make the boys fall in love, but for that she has to look in their eyes and see how using Fiona's magic you can make the boys fall in love. It's not going to be easy to help Fiona crush some hearts, because you can see that you will have to walk and run around the game to find the boys and avoid all the old ladies, and you can see that different games in which Fiona might be the main character are going to appear here in the girl games category. Have fun!
Use the MOUSE to play.
You can also read the instructions that Flirty Fiona are given in the game and follow them carefully!
Name: Flirty Fiona
Date: 12.01.2018 20:30
Category: Girl Games
Score: 5.00 stars.
Voted: 1 times
Played: 55 times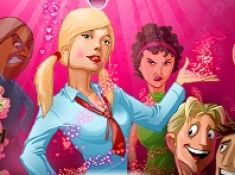 Flirty Fiona
Find the Flirty Fionagame by searching for this items:
fiona games, girl games, 2018 ability girl games, free girl games, girly games, flirty fiona games