We are very happy to see that you are back here on games-kids.com, where dear friends you can see that today we have brought for you a very fun Nick Soccer Stars 2 game, in which you will be able to gain points with all your favorite Nickelodeon characters. Today, you can see that we have brought for you a new online Henry Danger, The Loud House, THundermans, Alvin and the Chipmunks, Turtle Ninjas and Power Rangers, which you can see that are bringing for you a very attractive Soccer game, in which you will have to make sure that you can score as many goals as possible, and we are sure that you will manage to gain points in this new online Nickelodeon game, and you can see that there are going to bring for you more attractive Nickelodeon games. Have fun!
Use the ARROW and SPACE keys to play.
You can also read the instructions that Nick Soccer Stars 2 are given in the game and follow them carefully!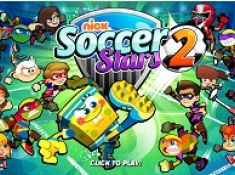 Nick Soccer Stars 2
Find the Nick Soccer Stars 2 game by searching for this items:
nickelodeon games, 2018 nickelodeon games, fun nick soccer stars 2, fun boys games, free sport games