Games-kids.com wants you to join us and spend your free time with us as we have for you more and more new and fun online games to offer, games that we are sure that you will love. Today we have decided to offer you as a next game, the game with the characters from Paw Patrol, a fun cooking and decoration type of game in which Ryder wants you to join him. Today is the celebration of the Paw Patrol unit and Ryder wants to make a surprise cake for his buddies. Will you join Ryder and give him a hand? Well in this new and fun online game that we have for you, you are invited to help your friend decorate the cake for his buddies. You will have a few decorations and ornaments for the cake and you can choose which one you think is the best for your little friends. Play this new cake decoration game and enjoy your time with your friends from the Paw Patrol series. Have fun!
Use the mouse to play!
You can also read the instructions that Paw Patrol Cake Decoration are given in the game and follow them carefully!
Date: 09.05.2016 08:00
Category: Paw Patrol Games
Score: 3.82 stars.
Voted: 17 times
Played: 17353 times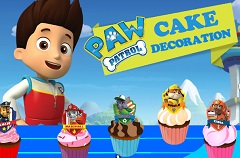 Paw Patrol Cake Decoration
Find the Paw Patrol Cake Decoration game by searching for this items:
paw patrol, new paw patrol games, paw patrol online games, free paw patrol games, kids paw patrol games, online paw patrol games, new games paw patrol, cake decoration games, fun cake decoration games, cake decoration online games, cake decoration games, paw patrol cake decoration , online cake decoration games, new cake decoration games, cake decoration ryder, decoration games, cake games, fun cooking games, paw patrol cooking games, cake decor, cake decoration, cake game, cake decoration online, cooking game, cooking games, decorate the cake, decoration game, decoration online games, new games, online cake, online games, paw patrol online, paw patrol games, fun cooking, fun cooking game, fun online games, decoration, cooking, games