Here on our website you can see that every day we are trying to bring for you a lot of beautiful, modern and interesting games that you can play with a lot of special characters. Today dear children we are bringing for you this new online Talking Friends games category, in which you will have to be very careful and work very hard, because you will see that it's not going to be easy at all for Angela, which is a kitty mommy now, but she still wants to be modern and beautiful even after she gave birth to her little talking kitten. You will have to make sure that you can help help Angela have a real makeover by the end of this game, because it's not going to be easy to make her wear a lot of interesting, modern and fashion new clothes that are in trend, but we are sure that you will be able to find the best decisions that you can make for Angela, which means that she will become one of the most beautiful and modern mom characters here on our website, and that she will return here on games-kids.com with a lot of more beautiful girl games that you can play for free. Have fun!
Use the MOUSE to play.
You can also read the instructions that Kitty Mommy Real Makeover are given in the game and follow them carefully!
Date: 17.02.2017 07:00
Category: Talking Friends Games
Score: 5.00 stars.
Voted: 2 times
Played: 630 times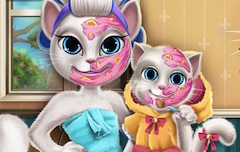 Kitty Mommy Real Makeover
Find the Kitty Mommy Real Makeover game by searching for this items:
talking friends games, new talking friends games, online talking friends games, fun talking friends games, 2017 talking friends games, free talking friends games, interesting talking friends games, girl talking friends games, makeover talking friends games, animal talking friends games, angela talking friends games, talking angela talking friends games, talking angela games, fun talking angela games, free talking angela games, 2017 talking angela games, interesting talking angela games, 2017 girl games, new girl games, fun girl games, 2017 makeover games, fun makeover games, 2017 makeup games, dress up games, free animal games, 2017 animal games, girl games, free girl games, interesting girl games, beautiful girl games, animal game, friends games, fun makeover, girl game, makeover, makeup game, real makeover, talking friends, 2017 animal game, angela games, animal games, beautiful girl, dress up game, free talking friends, fun makeover game, interesting games, makeover game, makeover games, makeup games, mal games, modern mom, new girl game, talking angela, talking angela game, angela