Come dear kids and check out this great game right here on our site, we arre sure you are going to like this game because it really is funny and we hope you are going to be curious enough to check it out, after all, as you can see, you get to play with Robert Pattinson, and actor which we are sure you already know because he plays Edward in the Twilight Love story. Well of course that he is very popular and loved especially by girl fans and in this game he tries to go on a vacation and he is chased by a lot of girls, which really bothers him. Your mission in this game is to simply help him get away from the girls and try to reach the finish line in all the levels, and you can also use the weapons you have. Good luck!
Use the W,A,S,D to move , MOUSE to use weapon and SPACEBAR to switch weapons
You can also read the instructions that Crazy Dizzy Paparazzi are given in the game and follow them carefully!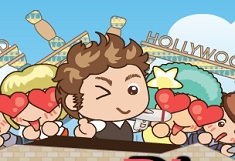 Crazy Dizzy Paparazzi
Find the Crazy Dizzy Paparazzi game by searching for this items:
adventure games, new adventure games, fun adventure games,online adventure games, funny adventure games, adventure games online, adventure free games, funny games with adventures, adventure games 2017, interesting adventure games, adventure games for fun, cute games with adventures, adventure games online, adventure crazy dizzy paparazzi, robert pattinson games, games with robert pattinson, fun adventure game, games with adventures, games with adventure, new adventure game, online adventure, online adventure game, cute games with adventure