Come dear kids and check out this super fun game right here on our site because we are sure you are going to love it asnd that is the most important thing for us, after all that is why we are here to do the best we can in order to make sure you have a nice time and we know you are going to have the nicest time ever if you simply play with the characters who are really happy that they can be playing with you. So come and try out this game right here in which, as you can see, you get to play with a bee and help him be the hive guardian, it won't be easy but we are sure you can do a very good job if you simply pay attention to the enemies and destroy them all witht he gun. You have to pay attention to the ammunition you have and of course to your health and to the health of the hive you are protecting. Good luck!
Use the MOUSE and the W,A,S,D
You can also read the instructions that Hive Guardian are given in the game and follow them carefully!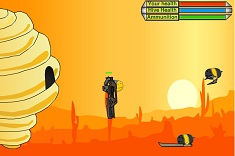 Hive Guardian
Find the Hive Guardian game by searching for this items:
adventure games, new adventure games, fun adventure games, online adventure games, adventure games for kids, cute adventure games, funny adventure games, adventure games for fun, interesting adventure games, hive guardian, hive guardian adventure games, adventure games for boys, action games, bee games, games with bees