Every day here on games-kids.com you have the chance to meet with special games and characters that you can play girly games for free with all your favorite games categories that you can find here on our website. Today, we have brought a special game from the Princess games category, in which you have to make sure that by the end of this game, you will be able to help four Disney princesses get ready for a very special pool party. In this game, Anna, Moana, Ariel and Rapunzel are the main characters, and you have to help them get ready, because they are going to have here on our website. Your main job in this game, is to help the four disney princesses to have the most beautiful floats from our website. For that, you will have to make sure that you can use special colors and designs for each Disney princess's float that she is going to use at the pool party. Have fun!
Use the MOUSE to play.
You can also read the instructions that Princess Pool Party Floats are given in the game and follow them carefully!
Date: 11.08.2017 22:15
Category: Princess Games
Score: 5.00 stars.
Voted: 1 times
Played: 598 times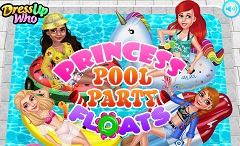 Princess Pool Party Floats
Find the Princess Pool Party Floats game by searching for this items:
princess games, pool party games, new pool party games, 2017 princess games, disney princess games, fun princess games, free princess games, interesting girl games, anna games, girl anna games, rapunzel games, 2017 rapunzel games, ariel games, new ariel games, online ariel games, 2017 moana games, girl moana games, fun moana games