This Captain Underpants and the Robo Booger Roundup game is just like a Pacman game but it is much more interesting , we think, and that is because you get to play with Captain Underpants and he makes everything more fun. You are in the Jeremy Horwitz Elementary High and you are Mr Krupp when the school is attacked by this robo boogers so of course that you have to do your best to defeat them and of course save the school. You are going to play like a Pacman game with Mr Krupp and if you manage to collect enough energy pellets, you will be able to transform yourself into Captain Underpants the superhero and destroy the robo boogers in order to win every level of this fun superhero game. Good luck!
Use the ARROW KEYS and SPACE
You can also read the instructions that Captain Underpants and the Robo Booger Roundup are given in the game and follow them carefully!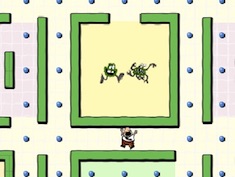 Captain Underpants and the Robo Booger Roundup
Find the Captain Underpants and the Robo Booger Roundup game by searching for this items:
captain underpants games, baby games, superheroes games, robo booger roundup, pacman games