This right here is a game which you dear kids, visitors of our site are going to love and we are sure about that for many reasons and one of them is the fact that you get to play with beautiful Tinkerbell who is really happy to be here and to have the chance to play with you and that is why we are here, to make sure you have a nice time and we know you are going to have a nice time since you get to play with Tinkerbell who is simply the best. She is really cute and friendly and in this game you get to do a tipical summer activity together asnd that is cooking some ice cream, well in fact it's a very special strawberry ice cream, Tinkerbell's favorite and she is really happy to have the chance to share this fun game with you. Good luck!
Use the MOUSE to play.
You can also read the instructions that Tinkerbell Specail Strawberry Ice Cream are given in the game and follow them carefully!
Date: 16.07.2017 19:00
Category: Tinkerbell Games
Score: 5.00 stars.
Voted: 1 times
Played: 263 times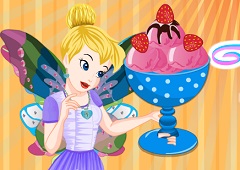 Tinkerbell Specail Strawberry Ice Cream
Find the Tinkerbell Specail Strawberry Ice Cream game by searching for this items:
tinkerbell games, games with tinkerbell, tinkerbell, tinkerbell new games, fun games with tinkerbell, tinkerbell gams for kids, cute games with tinkerbell, tinkerbell fairy games, fairy tinkerbell games, games with fairies, fairy games online, girl games, new girl games, cooking games, new cooking games, fun cooking games, tinkerbell cooking